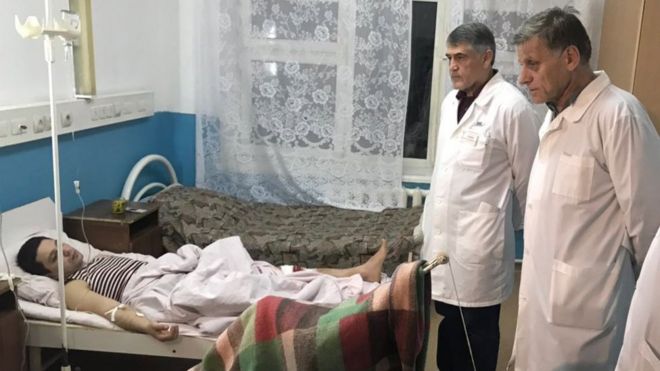 Doctors visit one of the victims of the attack. BBC/EPA.
Five women were killed and five people were injured during an ISIS terror attack in Dagestan,
Russia. BBC. The attack targeted people as they were leaving a church service and the attacker, a 22 year old named Khalil Khalilov was shot and killed. ISIS has taken credit for this attack. ISIS's Caucasus Province has conducted several major terrorist attacks. Though ISIS hasn't proven the attack was committed by one of their members, the suspect screamed "Allah Akbar" and targeted Christians. The attacker was armed with a rifle and knife.
My Comment:
Horrible story out of Russia and one that isn't getting the attention it deserves. Too many narratives the media doesn't want out there. An Islamic attack on Christian worshipers. A mass shooting in a country with stricter gun control. A story that gives sympathy for Russian citizens. All of that means that this story is going to be a footnote for western media.
Sadly though this kind of attack has been fairly common. ISIS has long targeted Christians for murder. They essentially eliminated the Christians communities in Iraq and Syria that existed in areas they took over. Christians were either made to flee, executed or made 2nd class citizens paying a harsh tax in areas ISIS controlled.
ISIS has also targeted Christians in terror attacks. The most notable one that I remember is when they executed an
85 year old Catholic priest in France
. Jacques Hamel ended up being a martyr for his religion and it looks like these five women in Russia have become martyrs as well.
Why does ISIS target Christians? It's in the Koran. Though Islam considers Christians to be worshiping the same God they are, it is also said that Christians need to be subserviant to Muslims and have to be humbled by paying a tax. Those that don't are considered targets. Not all Muslims believe this or bother trying to enforce it, but ISIS does.
This is one of the few major ISIS attacks we have had lately. We seem to have seen a major drop in the frequency and severity of attacks committed by ISIS. In the past it seemed like we were having weekly or even daily attacks at a pace that was horrifying. It got to the point where if we had a whole week without a terror attack it was somewhat surprising.
That has obviously changed now. And it's pretty clear why as well. ISIS has lost their major bases in Iraq and Syria and are now down to a sliver of territory in both countries. They no longer have a major base to stage attacks out of and that has made a world of difference.
But we also have to realize that even though ISIS has largely been defeated on the battlefield, this attack proves that they are still a threat. They have a lot of supporters left and several affiliated provinces that are still fighting. As long as those things are true we should expect further attacks...